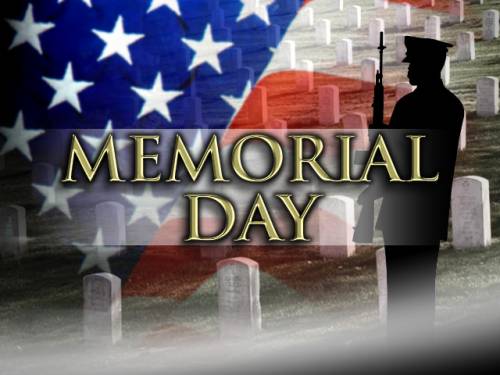 MEMORIAL DAY
In the United States, we set aside 'Memorial Day' to remember and give honor too all those who have given their lives in the military service of our country. Memorial Day is a Federal Holiday, and is presently observed on the last Monday in the month of May each year.
Since 1950, the President of the United States has issued, in accordance with Congressional joint resolution (see US Code Title 36, Subtitle I, Section 116), a Presidential Proclamation which calls all Americans to a solemn remembrance of our beloved heroes. The most recent Proclamation (2009) reads in part:
"For over two centuries, Americans have defended our National security and protected our founding principles of democracy and equal justice under law. On Memorial Day, we honor those who have paid the ultimate price in defense of these freedoms. Members of the United States Armed Forces have placed our National safety before their own for generations. From the first shots fired at Lexington and Concord to the current conflicts in Iraq and Afghanistan, these brave patriots have taken on great risks to keep us safe, and they have served with honor and distinction. All Americans who have enjoyed the blessings of peace and liberty remain in their debt. As we remember the selfless service of our fallen heroes, we pray for God's grace upon them. We also pray for all of our military personnel and veterans, their families, and all those who have lost loved ones in the defense of our freedom and safety. Today, as we commend their deeds, we also bear a heavy burden of responsibility to ensure their sacrifices will not have been in vain. This means that, as we uphold the ideals for which many have given their last full measure of devotion, the United States must never waver in its determination to defend itself, to be faithful in protecting liberty at home and abroad, and to pursue peace in the world."
The Proclamations request Americans to unite to pray for permanent peace, usually designating a particular time for that prayer. American flags are flow at half-staff from dawn until noon throughout our land. And, in accordance with The National Moment of Remembrance Act (Public Law 106-579 -- signed into law in December of 2000), each American is asked to pause at 3:00 pm (local time) to remember those who have given the ultimate sacrifice in the military service of our country.
Memorial Day is sometimes still referred to by it's original name, 'Decoration Day' ~ called thus, in relation to the practice of 'decorating' the graves of Civil War soldiers with flowers. These annual Spring time tributes began in May of 1866 and were observed in both the north and the south. On May 5, 1868, Major General John Logan, the National Commander of the Grand Army of the Republic (a Veterans Organization), issued General Order No. 11, proclaiming May 30th 'Decoration Day' nationwide:
"The 30th of May, 1868, is designated for the purpose of strewing with flowers, or otherwise decorating the graves of comrades who died in defense of their country during the late rebellion, and whose bodies now lie in almost every city, village, and hamlet churchyard in the land. In this observance no form of ceremony is prescribed, but posts and comrades will in their own way arrange such fitting services and testimonials of respect as circumstances may permit."
The first celebration of such was held at Arlington National Cemetery on May 30, 1868, with General James Garfield giving the tribute speech on the veranda of what was once the home of General Robert E. Lee. More than 20,000 graves of both Union and Confederate soldiers laying at rest on the hallowed ground of Arlington were then decorated by those who had come to pay honor.
Over time, some twenty-five cities stepped forward claiming to be the 1866 'birth place' of the observance of this great tribute. In 1966, President Lyndon Johnson and our federal government declared it to be Waterloo, N.Y., giving it this distinguished honor.
After World War I, those to be honored by this observance broadened to include the fallen of all American wars. In 1882 the name 'Memorial Day' began being used, growing in popularity particularly after World War II, and becoming the 'official name' under Federal Law in 1967.
The Uniform Holiday Bill, passed by Congress on June 28, 1968, moved the observance of 'Memorial Day' from the date of May 30th to the last Monday in the month of May. (Said Federal Law taking effect on the federal level in 1971; Public Law 90-363.)
Since that time, many have been advocating to have the observance returned to the traditional date. Beginning in 1987, Hawaii's Senator Daniel Inouye has introduced measures at the Congressional level to do so. The 2002 Memorial Day Address of the Veterans Of Foreign Wars states:
"Changing the date merely to create three-day weekends has undermined the very meaning of the day. No doubt, this has contributed a lot to the general public's nonchalant observance of Memorial Day."
To this day, the national ceremony at Arlington National Cemetery continues annually, with the President or Vice-President of the United States speaking to the thousands who have gathered to honor our war dead. Wreaths are laid at the Tomb of the Unknown Soldiers and American flags are placed on graves across the Cemetery. People across our land visit cemeteries, march in parades, and attend events to signify their great debt of gratitude to those who have given so much that we might live in the Land of The Free!

Moina Michael, who initiated the idea and was the first to wear a red Poppy on Memorial Day, also wrote this poem in 1915 in response to the famous 'In Flanders Field':

We cherish too, the Poppy red
That grows on fields where valor led,
It seems to signal to the skies
That blood of heroes never dies.


~ Rev. Lin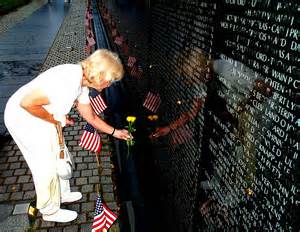 More Than A Name On A Wall
I saw her from a distance
As she walked up to the wall

In her hand she held some flowers
As her tears began to fall

And she took out pen and paper
As to trace her memories

And she looked up to heaven
And the words she said were these...

She said Lord my boy was special,
And he meant so much to me

And Oh I'd love to see him
Just one more time you see

All I have are the memories
And the moments to recall

So Lord could you tell him,
He's more than a name on a wall..

She said he really missed the family
And being home on Christmas day
And he died for God and Country
In a place so far away

I remember just a little boy
Playing war since he was three

But Lord this time I know,
He's not coming home to me

And she said Lord my boy was special,
And he meant so much to me

And Oh I'd love to see him
But I know it just can't be

So I thank you for my memories
And the moments to recall

But Lord could you tell him,
He's more than a name on a wall..

Lord could you tell him,
He's more than a name on a wall..
BURY ME WITH SOLDIERS
~ Author Unknown ~
I've played a lot of roles in life;
I've met a lot of men,
I've done a lot of things
I'd like to think
I wouldn't do again.
And though I'm young,
I'm old enough
To know someday I'll die.
And to think about what lies beyond,
Beside whom I would lie.
Perhaps it doesn't matter much;
Still if I had my choice,
I'd want a grave 'mongst
Soldiers when
At last death quells my voice.
I'm sick of the hypocrisy
Of lectures of the wise.
I'll take the man, with all the flaws,
Who goes, though scared, and dies.
The troops I knew were commonplace
They didn't want the war;
They fought because their fathers and
Their fathers had before.
They cursed and killed and wept...
God knows
They're easy to deride...
But bury me with men like these;
They faced the guns and died.
It's funny when you think of it,
The way we got along.
We'd come from different worlds
To live in one where no one belongs,
I didn't even like them all;
I'm sure they'd all agree.
Yet I would give my life for them,
I know some did for me..
So bury me with soldiers, please,
Though much maligned they be.
Yes, bury me with soldiers, for
I miss their company.
We'll not soon see their likes again;
We've had our fill of war.
But bury me with men like them
Till someone else does more.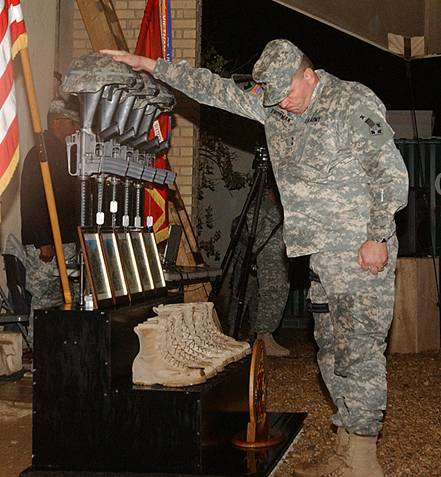 I have laid down my life for you and for my country. I ask only that you remember why you have the freedoms that you do. Men and women have died in battle so that you may live free and without fear. Mothers and fathers have lost sons and daughters, sons and daughters have lost fathers and mothers. As you read this wonder why is it so important to remember me. I am the spirit of this great country. I am our National Flag, the National Anthem. I am the military band that plays marches. I am the Soldiers, Sailors, Airmen and Marines that parade to that music. I am guarded day and night, 7 days a week, every day of the year. I represent millions of men, and women who have died, bleed, and have been disabled for you. When our National Flag goes by, stand proud and place your hand over your heart. I will be there with you, proud of you as I am of our flag.

Remember Me!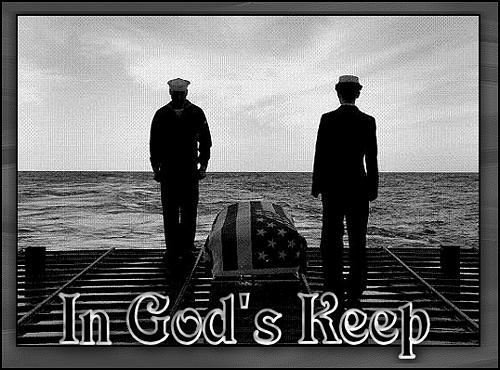 DYING FOR FREEDOM ISN'T THE WORST THAT COULD HAPPEN...BEING FORGOTTEN IS !

Susie Stephens MIA, USA (SF) VN 67
GA State & Region I Coordinator
National League of Families For POW/MIAs
President, GA Committee or POW/MIA Inc.

MEMORIAL DAY
LET US NEVER FORGET
BY: Susie Stephens
MIA Family
USA (SF) VN 67
At

Arlington Cemetery

, three servicemen representing

World War I

,

World War II

and the

Korean wars

are enshrined at the

Tomb of the Unknown Soldier

. All across America, cemeteries are filled with military headstones marked "unknown". We don't know their names or what they looked like. We'll never be able to thank them for what they did for all of us.
The cynic perhaps would question the wisdom of those who went into battle and lost their lives defending America. Was it really worth it?
Memorial Day

is a day of flags, flowers and speeches. We visit memorials and monuments to honor our war dead. We promise never to forget as the lonely notes of "Tapes" are played.
While it's a day to remember those whose lives were cut short, Memorial Day also is for the living. It challenges us to pursue our destiny of shaping a nation and world free from fear and want; it reminds us of our duty to preserve and defend our nation's ideals of freedom, justice and government by "We the people."
As an MIA family from

Vietnam

, I continually have witnessed how you preserve the memorials of those who have died serving our country. You proudly display and wear a flag pin, not just on patriotic holidays but everyday.
Each time I visit the "Wall," I see their faces and hear their voices and laughter from when they were young. I can hear their reply to the cynic, for they alone have the answer. "It was worth it." It was entirely worth the cost. Let's never forget the price they paid. Let's never forget to remember.
Perhaps the most profound tribute of all was made on the first national memorial observance in May 1868 by then Gen. James A. Garfield when he said" They summed up and perfected, by one supreme act, the highest virtues of men and citizens. For love of country they accepted death, and thus resolved all doubts, and made immortal their patriotism and virtue."
Let us never forget to remember.....they gave up all their tomorrows for our todays.
This Memorial Day, when you gather your family for dinner, please say a prayer for those who have given their all for us, especially during this difficult time as once again, America has put her young men and women in the front line for FREEDOM.
"BLESSED IS THE NATION WHOSE GOD IS THE LORD, THE PEOPLE HE CHOSE FOR HIS INHERITANCE."
PSALM 33:12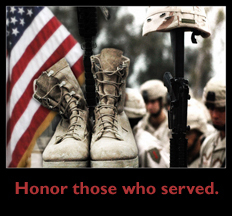 Please click the Topsites symbols to vote for this site and to find other troop/veteran support sites:

This website is being worked on each day. Please check back often, as more pages will be added and more information placed on the pages that are here. If you have any questions, please feel free to contact me. If you wish to have information added, make corrections, have comments, or find a link that no longer works, please let me know.
THANK YOU!

Please visit me on my other websites:
Women of Ministry / Women of Faith www.WomenofMinistryWomenofFaith.com
Faith and Life Ministries www.FaithandLifeMinistriesInternational.com
On the websites of those I am affiliated with:
Patriot Guard Riders www.PatriotGuard.org
Connecticut Patriot Guard Riders www.ctpatriotguard.org
Missing In America Project www.MIAP.us
VA Voluntary Service http://www.volunteer.va.gov/
Military Ministry http://www.militaryministry.org/
Christian Military Fellowship http://cmf.com/
VFW National Home For Children http://www.vfwnationalhome.org/
Post #296 VFW Ladies Auxiliary www.vfwpost296ladiesaux.com
Marine Corps League Auxiliary http://mcldeptct.org/pages/mcl_ct_auxiliary.html
American Soldier Memorial Project http://groups.yahoo.com/group/AmericanSoldierMemorial
No Soldier Left Behind Memorial http://groups.yahoo.com/group/NoSoldierLeftBehindMemorial/
JESUS My Lord and Savior Church www.JesusMyLordandSaviorChurch.com
Men Walking With God www.MenWalkingWithGod.com/