SOME GAVE ALL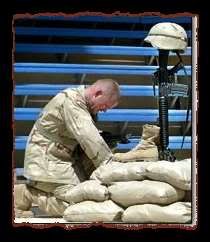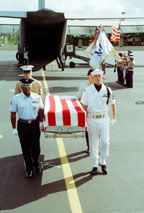 It is from my heart to yours that I wish to say 'thank you', 'I am sorry', and 'my love is with you' to each and everyone that has lost a loved one in the wars of this earth. With sadness, I offer you my gratefulness -- with honor I offer you my pride -- with hope I offer you my prayers. May the memory of your loved one teach others what bravery, commitment, honor, respect, courage, love, and peace are all about. As long as I live, I shall never forget your sacrifice or the sacrifice of your loved one. If you ever have a question or need that I can help you with, please contact me:
Lin McGee at 860-379-1298 or Rev.Lin.McGee@gmail.com
I HONOR MY GREAT-UNCLE
RAY KEEGAN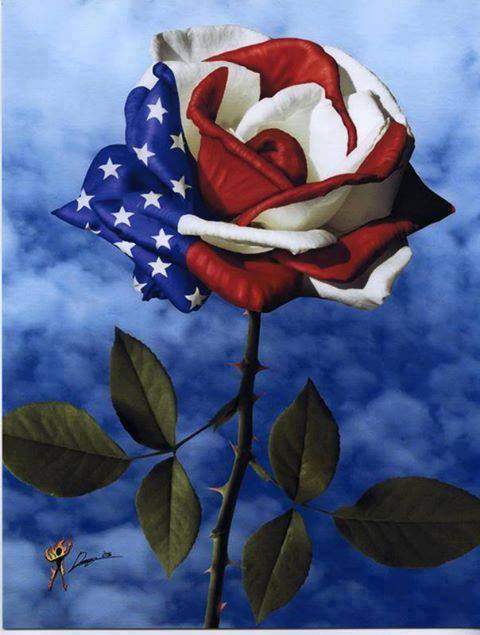 KIA WWI
Name:

Ray

Keegan


State Registered: Michigan
Death Date: 31 Jul 1918
Cemetery: Oise-Aisne American Cemetery
Cemetery Burial Plot: Plot B Row 18 Grave 10
Cemetery City: Fere-en-Tardenois
Cemetery Country: France
War: World War I
Title: Private, U.S. Army
Rank: Private
Service: U.S. Army
Division: 125th Infantry Regiment, 32nd Infantry Division


US World War I Draft Registration Cards:
Name:

Ray

Keegan


County: Alcona
State: Michigan
Birthplace: Michigan
Birth Date: 9 Apr 1895
Race: Caucasian (White)
Eyes: Blue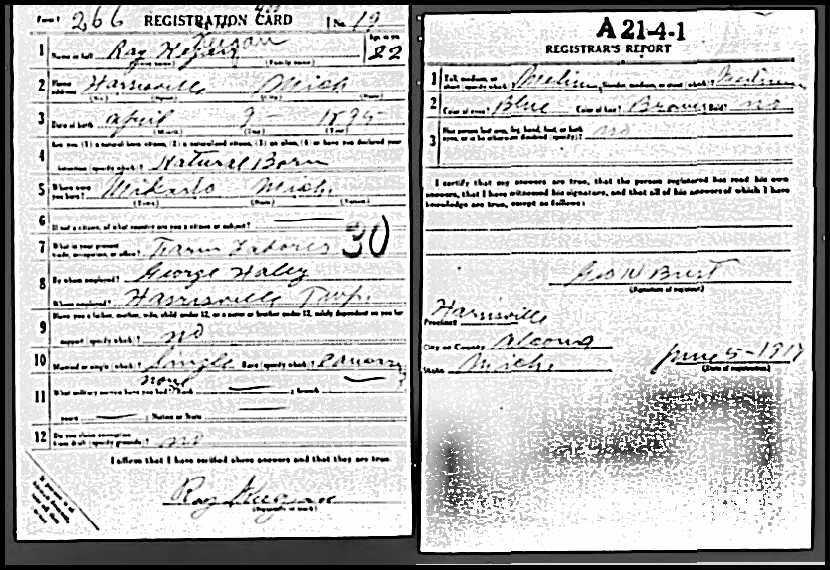 Oise-Aisne American Cemetery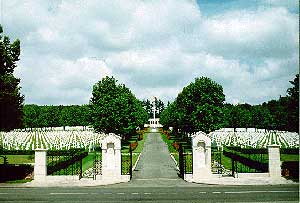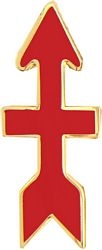 My grand-uncle Ray was the brother of my paternal grandmother, Helen (Keegan) Funk. I always honored my father's WWII service to our country, but learning that his uncle had been killed in WWI made me respect his decision to serve even more. Death in war was very close to my father, and yet he elected to join the Navy Seabees and serve in the Pacific Theater during the war. 'Elected', I say, 'decision', I say, as my father did not have to serve, for when he was a young boy he fell on a large milk bottle and severed his wrist so badly that he never had feeling in his left hand again. Yet, he went to war to ensure that our country and its people remain free.
My grandmother had seven children, one of whom she named 'Ray', after her brother who had been killed in the war. Little Ray was burned to death when he was three years old, when he backed into a pail of scalding water which my grandmother was using as she was cleaning. I would believe this held the loss of my grand-uncle ever so much more present in their lives.
Grand-uncle Ray entered the Army when he was 22 years of age. He served with the 125th Infantry Regiment, CO K -- The Red Arrow. He was killed on July 31, 1918, in France, where he rests in the Oise-Aisne American Cemetery.
........Love You Great-Uncle Ray
Arlington National Cemetery

Veterans Day - November 11, 2009

Thank you to the Blue Star Mothers of America, Inc. for the privilege of being able to honor our troops, veterans, and fallen as the American Flag Bearer for our organization at the Veterans Day ceremonies at Arlington National Cemetery on November 11, 2009.

National Patriotic Instructor, 2009-2010
At present our brave men and women of the military are serving in the War Against Terror: Operation Enduring Freedom and Operation New Dawn; Operation Iraqi Freedom having been fought between March 19, 2003 and December 15, 2011. My prayer is for the safety and quick return of our heroes home to their families!! My hearts is with those who have lost loved ones to this conflict. You remain in my heart and prayers. Your sacrifice has ensured our freedom and our national way of life. I shall forever honor you in memory and in life!!
Rev. Lin
DOD REPORT
March 19, 2003 - September 1, 2010
OPERATION IRAQ FREEDOM
OPERATION IRAQI FREEDOM (OIF) U.S. CASUALTY STATUS *
FATALITIES AS OF: August 2, 2013, 10 a.m. EDT
________________________________________Deaths____________Wounded
OIF US Military Casualties____________4,409______________31,928
OIF US DOD Civilian Casualties________13________________________
Totals__________________________________4,422______________31,928
September 1, 2010 - December 15, 2011
OPERATION NEW DAWN
OPERATION NEW DAWN (OND) U.S. CASUALTY STATUS**
FATALITIES AS OF: August 2, 2013, 10 a.m. EDT
__________________________________________Deaths_________Wounded
OND US Military Casualties______________66_______________295
OND US DOD Civilian Casualties__________0___________________
Totals_____________________________________66_______________295

October 7, 2001 - August 2, 2013
OPERATION ENDURING FREEDOM
OPERATION ENDURING FREEDOM (OEF) U.S. CASUALTY STATUS
FATALITIES AS OF: August 2, 2013, 10 a.m. EDT
__________________________________________Deaths__________Wounded
Afghanistan Only***______________________2,124____________19,080
Other Locations****_______________________127
OEF US DOD Civilian Casualties____________3
Worldwide Total___________________________2,254____________19,080
* OPERATION IRAQI FREEDOM includes casualties that occurred between March 19, 2003, and August 31, 2010, in the Arabian Sea, Bahrain, Gulf of Aden, Gulf of Oman, Iraq, Kuwait, Oman, Persian Gulf, Qatar, Red Sea, Saudi Arabia, and United Arab Emirates. Prior to March 19, 2003, casualties in these countries were considered OEF. Personnel injured in OIF who die after 1 September 2010 will be included in OIF statistics.
** OPERATION NEW DAWN includes casualties that occurred between September 1, 2010, and December 31, 2011, in the Arabian Sea, Bahrain, Gulf of Aden, Gulf of Oman, Iraq, Kuwait, Oman, Persian Gulf, Qatar, Red Sea, Saudi Arabia, and United Arab Emirates. Personnel injured in OND who die after 31 December 2011 will be included in OND statistics.
*** OPERATION ENDURING FREEDOM (Afghanistan only), includes casualties that occurred in Afghanistan only.
**** OPERATION ENDURING FREEDOM (Other Locations), includes casualties that occurred in Guantanamo Bay (Cuba), Djibouti, Eritrea, Ethiopia, Jordan, Kenya, Kyrgyzstan, Pakistan, Philippines, Seychelles, Sudan, Tajikistan, Turkey, Uzbekistan, and Yemen.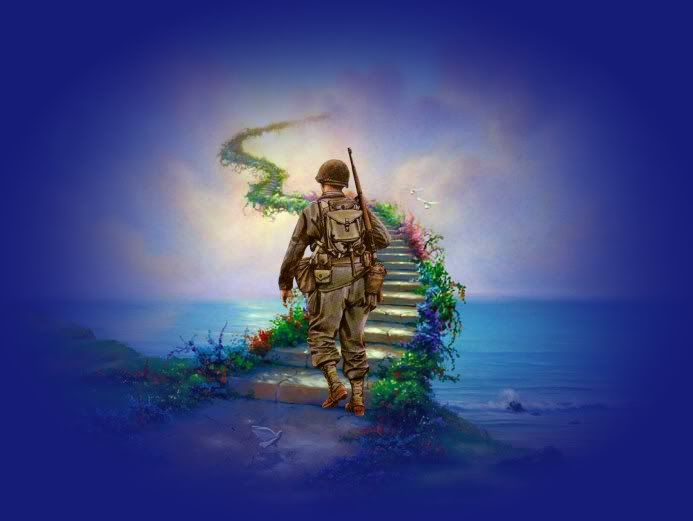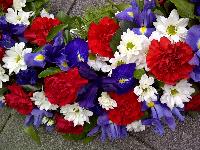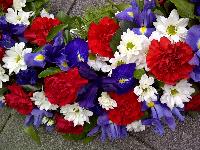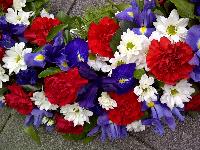 War
Dates
Served
Battle Deaths
Other Deaths
Wounded
American Revolution
1775 - 1783
217,000
4,435
Unknown
6,188
War of 1812
1812 - 1815
286,730
2,260
Unknown
4,505
Indian Wars
1817 - 1898
106,000
1,000
Unknown

Unknown

Mexican War
1846 - 1848
78,718
1,733
11,550
4,152
Civil War (North)
1861 - 1865
2,213,363
140,414
224,097
281,881
Civil War (South)
1,050,000
74,524
59,297

Unknown

Spanish-American War
1898 - 1902
306,760
385
2,061
1,662
World War I
1917 - 1918
4,734,991
53,402
63,114
204,002
World War II
1940 - 1945
16,112,566
291,557
113,842
671,846
Korean War
1950 - 1953
5,720,000
33,686
20,560
103,284
Vietnam War
1964 - 1975
9,200,000
47,410
42,788
153,303
Gulf War
1990 - 1991
2,322,332
148
1,194
467

---

Totals
42,348,460
650,954
538,503
1,431,290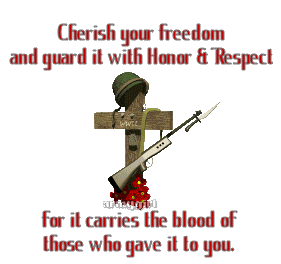 Published on Nov 2, 2012
Lt. Col. Mark Weber of the Minnesota National Guard has been battling stage four cancer, so he knew he didn't have much time left. He took a moment, though, to sing a song with his song. The song is Tell My Father, a Civil War era tune. This will touch you deeply - and you may just cry.

A Memorial Day Poem
By C W Johnson

We walked among the crosses
Where our fallen soldiers lay.
And listened to the bugle
As TAPS began to play.
The Chaplin led a prayer
We stood with heads bowed low.
And I thought of fallen comrades
I had known so long ago.
They came from every city
Across this fertile land.
That we might live in freedom.
They lie here 'neath the sand.
I felt a little guilty
My sacrifice was small.
I only lost a little time
But these men lost their all.
Now the services are over
For this Memorial Day.
To the names upon these crosses
I just want to say,
Thanks for what you've given
No one could ask for more.
May you rest with God in heaven
From now through evermore
Dear Families Of The Fallen
I am the State Rep for CT, NJ, TN, LA, GA, and DC with:
THE AMERICAN SOLDIER MEMORIAL PROJECT
http://groups.yahoo.com/group/americansoldiermemorial/
and
THE NO SOLDIER LEFT BEHIND PROJECT
http://groups.yahoo.com/group/NoSoldierLeftBehindMemorial/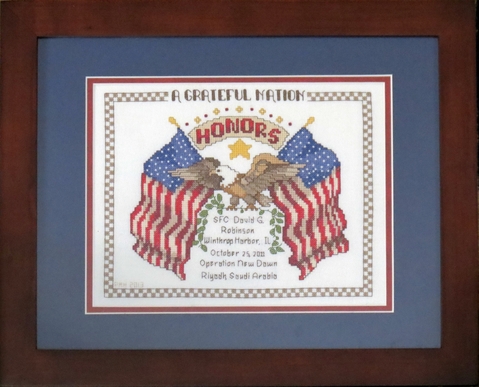 What we are trying to do in this program is to provide each family who's loved one has been lost in the present War on Terror, an embroidered patriotic sampler with their hero's personal information on it. We are assigning and stitching for Gold Star Families as quickly as possible. Perhaps your loved one has already been assigned to a stitcher. You can contact me no matter what state you are in and I will put the information through for you to the rep for your state. We hope these memorials will bring you comfort.

No words can express the sorrow I feel for your loss. I try to help through several programs across the states. If there is anything that you may need, I am right here. Help with VA forms for Presidential Memorial Certificates or Gold Star Pins? Requisitioning your Gold Star Banner with your loved ones name and branch of service? There are others things also. Contact me at any time if you feel I can help you with anything or if you just wish to talk. I am so fortunate that my children have returned from the war. One has been three times, one twice. I know they shall return to war again, but I have the blessing of their life at this time. I wish to offer my hand in friendship and love to those that were not so fortunate. If there is anything I can do for you or your family members at any time, please let me know. I welcome each opportunity that I can to show honor and respect to our fallen heroes and their families.
Thank you, Lin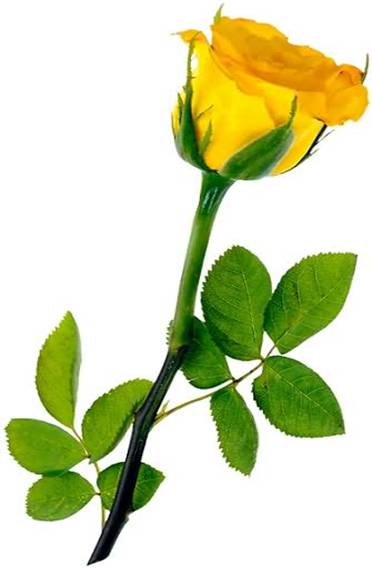 Please click the Topsites symbols to vote for this site and to find other troop/veteran support sites:

This website is being worked on each day. Please check back often, as more pages will be added and more information placed on the pages that are here. If you have any questions, please feel free to contact me. If you wish to have information added, make corrections, have comments, or find a link that no longer works, please let me know.
THANK YOU!

Please visit me on my other websites:
Women of Ministry / Women of Faith www.WomenofMinistryWomenofFaith.com
Faith and Life Ministries www.FaithandLifeMinistriesInternational.com
On the websites of those I am affiliated with:
Patriot Guard Riders www.PatriotGuard.org
Connecticut Patriot Guard Riders www.ctpatriotguard.org
Missing In America Project www.MIAP.us
VA Voluntary Service http://www.volunteer.va.gov/
Military Ministry http://www.militaryministry.org/
Christian Military Fellowship http://cmf.com/
VFW National Home For Children http://www.vfwnationalhome.org/
Post #296 VFW Ladies Auxiliary www.vfwpost296ladiesaux.com
Marine Corps League Auxiliary http://mcldeptct.org/pages/mcl_ct_auxiliary.html
American Soldier Memorial Project http://groups.yahoo.com/group/AmericanSoldierMemorial
No Soldier Left Behind Memorial http://groups.yahoo.com/group/NoSoldierLeftBehindMemorial/
JESUS My Lord and Savior Church www.JesusMyLordandSaviorChurch.com
Men Walking With God www.MenWalkingWithGod.com/